We started to make maple syrup in 1971. Our beginning was very humble. My brother Leonard came over to the farm one day and said, "I found seven taps in a drawer, let's make some maple syrup!" I told him that I had no idea how to make maple syrup.
At that time, we produced most of our own food that fed our family. We have raised cattle, turkeys, chickens, rabbits and pigs. A large vegetable garden was the center piece of our lives. Our parents came from Quebec, Canada. Our father grew up on a dairy farm and our Mom grew up in a mill town. Neither one of them ever made maple syrup. We didn't have anyone to ask about the process. We made a trip to the town library in Burlington, Connecticut, and began our research.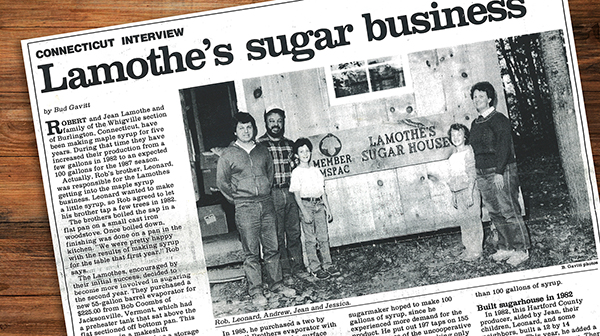 Together as a family, we boiled sap outside on an old cast iron stove. We began to learn from our mistakes.  During this trial period it would rain and snow heavily on us but as a family, we stood together to perfect the process. Enjoying our accomplishments was rewarding. After two years outside, during the cold months of February and March, we decided it was time to move our outdoor kitchen indoors! We renovated an old building that we had out back – the sugar house was born. I was sure that I died and went to heaven. We had running water, electricity, lights and a radio! That year was a big turning point in our journey. We had been boiling sap all day long on flat pans, over a wooden fire, which was a slow process and didn't produce much maple syrup. The turning point was when a gentleman visited the sugar house and said, "I see that you are boiling sap, can I buy a quart of maple syrup from you?"  Full of excitement, I ran down to the farm, grabbed a Ball Mason Jar and filled it for him. He was delighted and so were we!  It was at this point we knew that this was the start of something wonderful.